Westborough Middle School
2570 Westborough Avenue
South San Francisco, California 94080


June 26, 2003

To Whom It May Concern:

I am a teacher at Westborough Middle School in South San Francisco, California. Last semester I had Ms. Nadia Tarzi come to the school to give a presentation on Afghanistan, a country much in the news but still a mystery to most Americans.

Ms. Tarzi came to the school with a beautiful slide show which showed both the physical beauty and the rich archeological heritage of the country. She presented a view of Afghanistan which stressed cultural and historical understanding, and gave the students many examples of what our two peoples have in common. She addressed a large group of children made up of several classes from different grade levels in the school library. Her presentation lasted roughly an hour, with time afterwards for questions from the students.

Afghanistan ceased to be for many of these children a far-off den of terrorists and mad bombers and became a real country full of people very much like them. By touching on many different aspects of the history and culture of Afghanistan and explain them in a simple yet sophisticated way Ms. Tarzi was able to create a much more benign image of this struggling country in the minds of the students.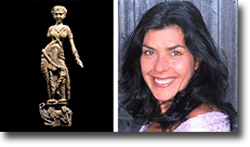 While she was never condescending, Ms. Tarzi spoke to the students in an age-appropriate way about things that they could understand.

I think that the work that Ms. Tarzi is doing is very important, and was very happy to have her come speak to the students at my school. At a time when Americans are deeply involved in the Middle East and Central Asia it is more important than ever for students to hear more than one perspective, more than one voice, to see a real human being from a country that they have heard so many bad things about.

I hope that Ms. Tarzi is able and willing to continue this work, and will ask her to return to my school next year.

Sincerely,

Daniel Yanow
Teacher
Westborough Middle School